What is Broad-Spectrum CBD?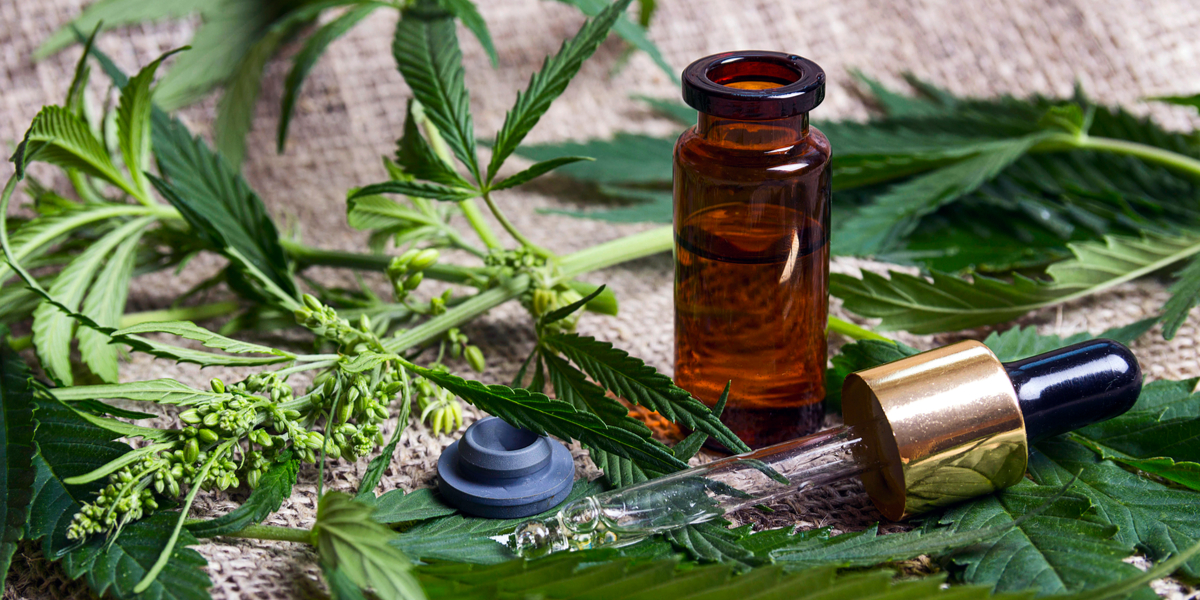 Broad-spectrum CBD is a term that one is bound to come across when researching about the different types of CBD that are available in the market today.
CBD, otherwise known as cannabidiol, has rapidly grown in popularity over the past few years. This ever-growing popularity is mainly attributed to the myriad of health benefits that are tied to the use of CBD.
Credible research has shown that there are many positive effects attributed to the regular use of CBD broad-spectrum products. They can help alleviate the symptoms of both minor and major illnesses. Ultimately, broad-spectrum CBD products may even elevate one's quality of life.
What is Broad-Spectrum CBD?
Broad-spectrum CBD is one of the classifications for the different types of CBD. Currently, there are three main types of CBD. Each of these types of CBD brings about different side effects.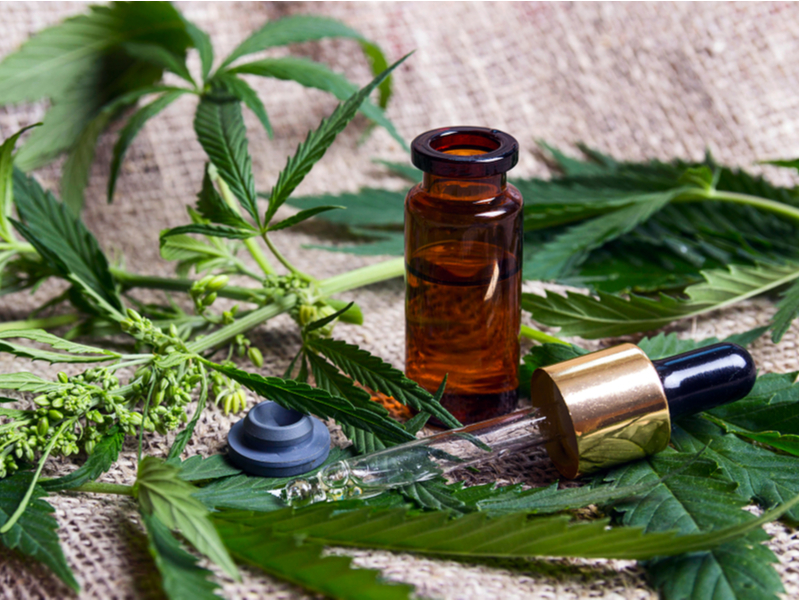 The first type is the CBD isolate. This is composed of 99.9% pure CBD. During the extraction process every other component of the cannabis plant, like the terpenes and flavonoids, is stripped away to create this pure CBD isolate.
Full-spectrum CBD is another specification or type of CBD. Unlike the CBD isolate, all the components of the cannabis plant, including the fatty acids, cannabinoids, terpenes, and flavonoids are found in full-spectrum products.
It's most notable component is tetrahydrocannabinol (THC). THC is the psychoactive component of the cannabis plant. This component is what triggers the feeling of a "high" in users. This very small amount of THC categorizes all full-spectrum products as hemp plant products under the 2018 Farm Bill.
Lastly, broad-spectrum CBD is a cross between a CBD isolate and a full-spectrum CBD product.
Broad-spectrum CBD can also trigger the Entourage Effect, but, much like the CBD isolate, it has no THC content whatsoever.
Full-Spectrum vs. Broad-Spectrum CBD
Full-spectrum CBD and broad-spectrum CBD both have very similar effects to one another. Both types of CBD are able to trigger the Entourage Effect in users.
The key difference between full-spectrum CBD and broad-spectrum CBD is the THC content.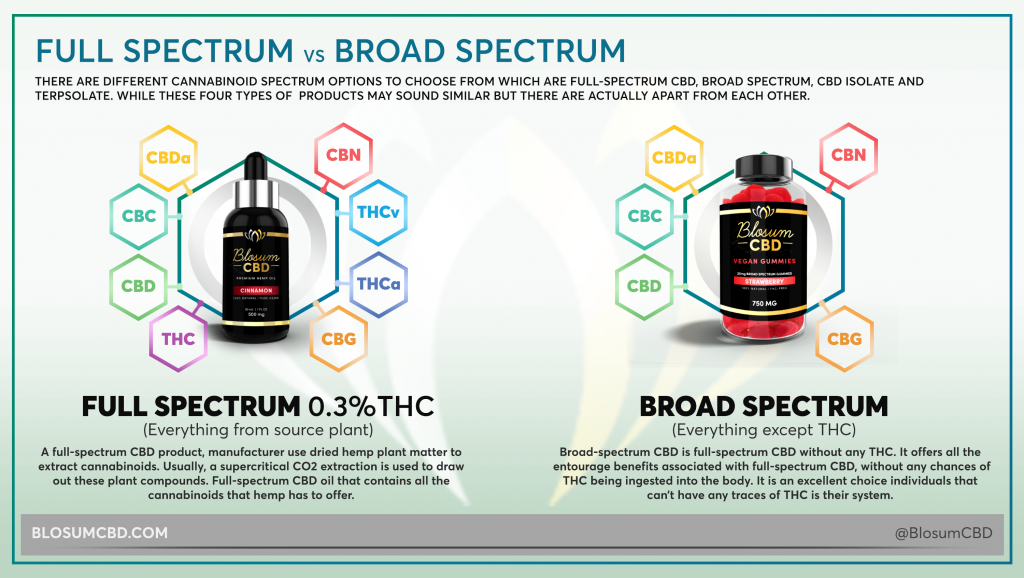 For some consumers, even the most minute amount of THC is a cause for concern. This is because of the small possibility that the trace amounts of THC may still show up in drug tests.
Many employers require their employees to go through mandatory drug testing and using full-spectrum products may render these tests THC positive. With broad-spectrum CBD, there are no possible psychoactive side effects. Even though it is THC free, one can enjoy the benefit of the Entourage Effect and do so without any worries.
Although, the drawback to broad-spectrum CBD is that it is not as widely available as full-spectrum CBD. There is also not as much research about broad-spectrum CBD as compared to full-spectrum CBD.
When purchasing any broad-spectrum CBD product, one has to make sure that they're purchasing from trusted producers who use high-quality ingredients to create authentic, third-party lab-tested products.
CBD Oil Side Effects
Today, CBD oil is the most popular form of CBD. Its popularity is on par with its versatility. It's a product that can be taken sublingually, mixed into one's beverage of choice, or even incorporated into food.
CBD oil can be easily absorbed by the body, which means that one can enjoy its health benefits faster.
Regular use has been linked to a number of positive side effects. It can alleviate the pain and awful symptoms caused by a wide array of illnesses, including but not limited to: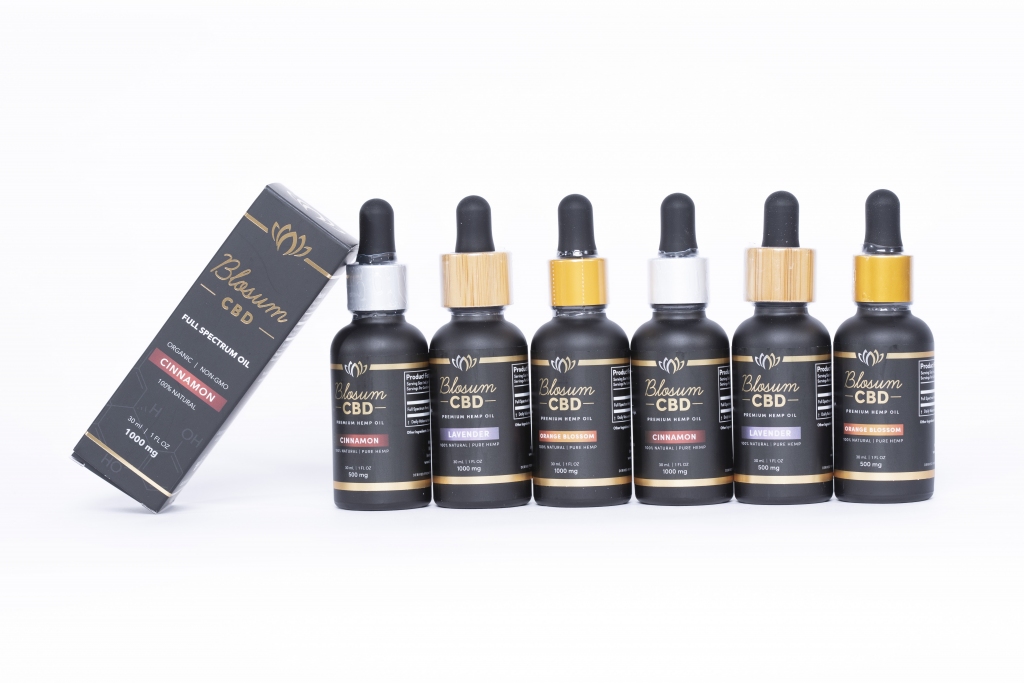 Insomnia
Anxiety and depression
Chronic Pain
Nausea
Cancer
Take note that CBD oil may possibly interact with other prescribed medications. Although these effects are most likely mild, it is advisable to consult with a medical professional first before incorporating any form of CBD product into one's daily medications.
To date, all CBD products, CBD broad-spectrum products included, have yet to be evaluated by the FDA. Put simply, this means that the CBD industry remains unchecked.
Therefore, all consumers must first research thoroughly about the products they plan to purchase and use. Not all cannabis plant products or hemp plant products are created equal. It's best to purchase these goods only from trusted producers like BlosumCBD.
Broad-spectrum CBD is not a cure-all. It is meant only to be used as an all-natural health supplement. It is not intended to diagnose, treat, or cure any ailments on its own or without the advice of a medical professional.
Broad-Spectrum CBD
If you're more interested in the best broad-spectrum CBD products, BlosumCBD has still got you covered! They've created a completely THC-free range of CBD products.
For those that are looking to slowly build up their tolerance to CBD, these Vegan CBD Gummies are a good beginner product.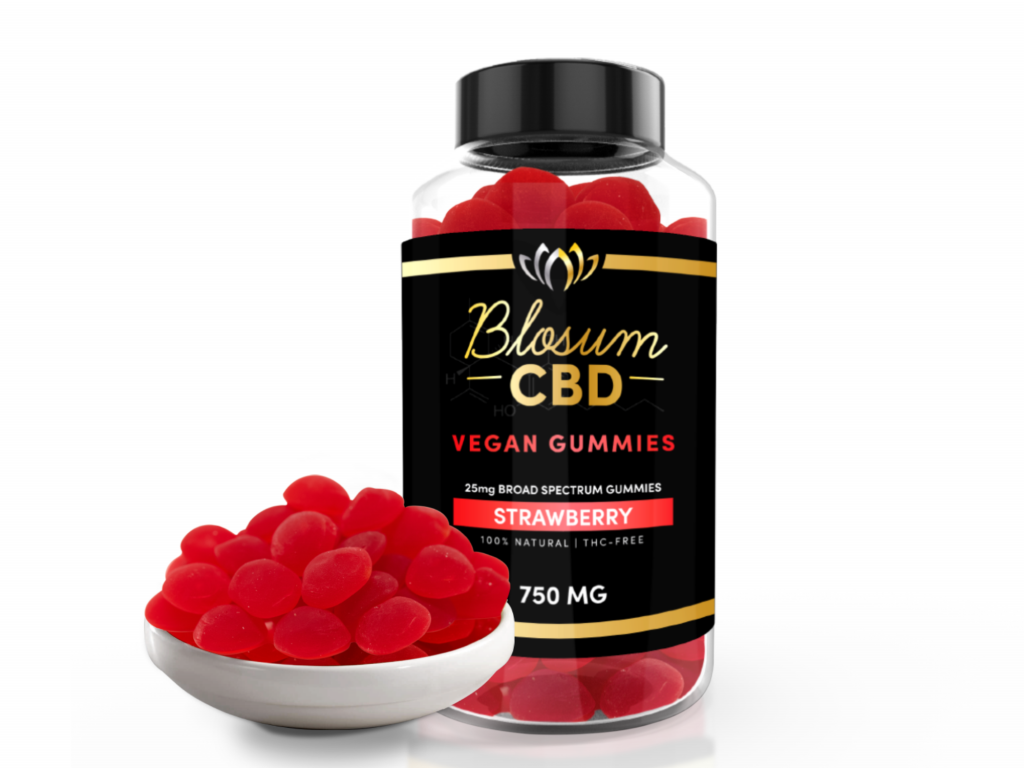 Each strawberry flavored gummy contains exactly 25 mg of CBD. Along with a healthy serving of CBD, every dose also comes with additional vitamins and nutrients.
If the idea of consuming CBD oil alone is off-putting, you can opt for these CBD Softgels instead. They offer the exact same benefits but are in an easily palatable capsule form. 
These CBD softgels have 25 mg of CBD and can be taken as needed, BlosumCBD states that it is not unusual for one to take two or more at a time.
Verdict
Broad-spectrum CBD can greatly improve the overall quality of one's life! It can help make day-to-day tasks easier, especially if there are existing ailments that hinder one's productivity.
CBD products have the potential to greatly benefit consumers with regular use. However, it should not be treated as some sort of magical medicine. Rather, it is an all-natural, sustainable health supplement.
Is CBD Legal? Hemp-derived CBD products (with less than 0.3 percent THC) are legal on the federal level. Moreover, these statements have not been evaluated by the Food and Drug Administration. This product is not intended to diagnose, treat, cure or prevent any disease and products that have not been FDA approved. Likewise, you must be at least 21 years old to purchase these products. Talk to your physician or medical doctor for additional information.