7 Easy-to-Make Healthy Snack Recipes in Under 10 Minutes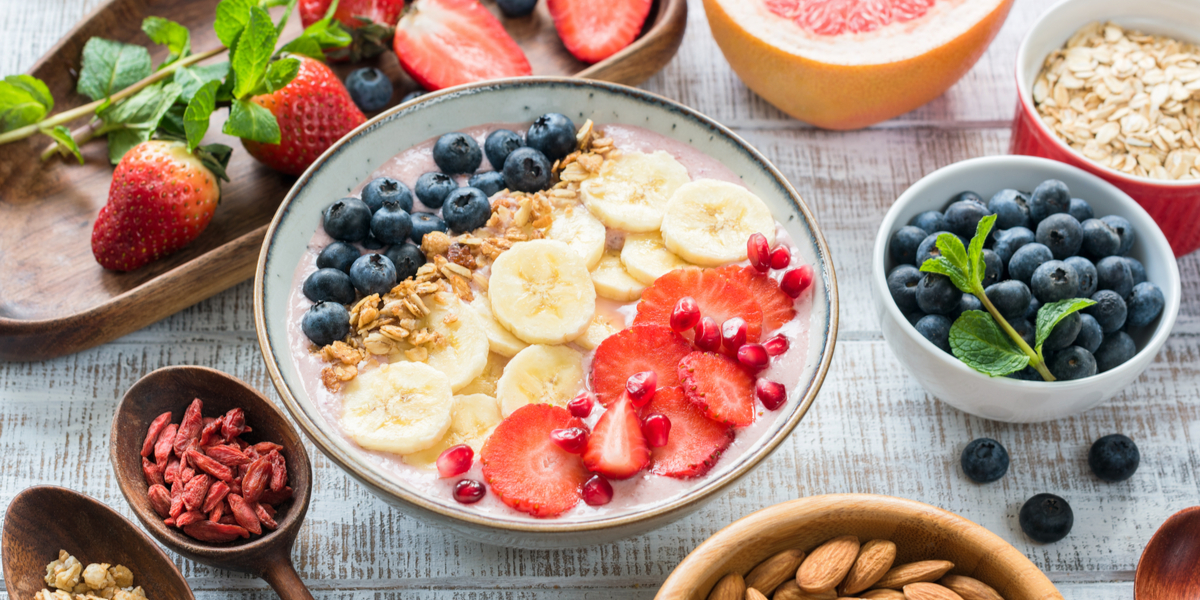 Perhaps one of the biggest challenges of adult life is to eat well even with a hectic schedule. In this article, we list healthy snack recipes that are a breeze to make whether readers know their way around the kitchen or not.
With a little bit of mixing, chopping, and quick baking, readers can enjoy healthy and delicious food without taking too long in the kitchen.
Easy Healthy Snack Recipes
With a large percent of the population working at home, the snack plate has seen a resurgence in popularity. What's better than having a platter of snacks at your elbow, fueling your work?
Below are some great additions to your snack plate to get you through the day.
Zucchini Pizza Bites
Ingredients:
1 tbsp of olive oil
1 zucchini, cut into ¼-inch rounds
¾ marinara sauce
⅓ cup of grated mozzarella cheese
⅓ cup of mini pepperonis
1 tbsp Italian seasoning
Method:
Over medium heat, heat olive oil in a pan. Flip the pieces once, cooking each side for about 1 to 2 minutes or until cooked all the way through. Season with salt and pepper, to taste.
Place zucchinis on a baking sheet.
Top each piece with equal amounts of marinara sauce, then cheese, and pepperoni.
Place in the oven and cook at 320 F for 1 to 2 minutes, or until the cheese completely melts.
Air-fried Kale Chips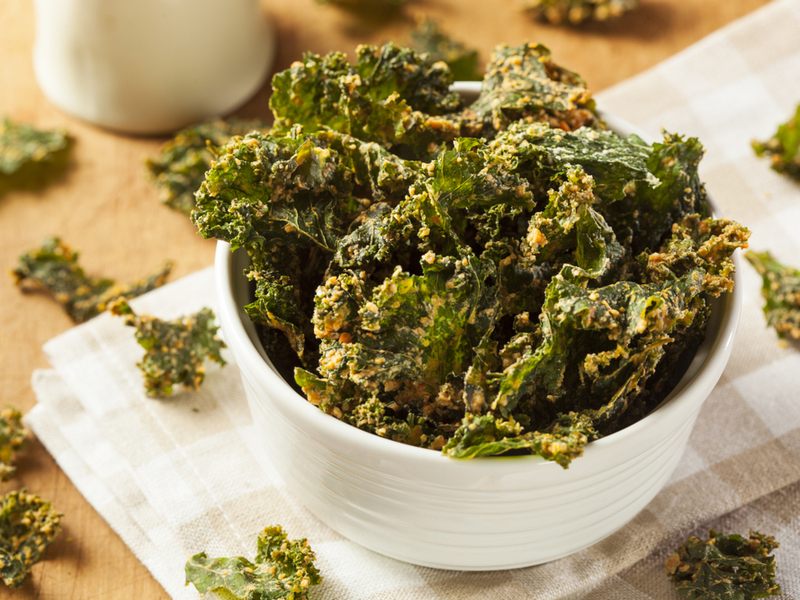 Ingredients:
5 cups of kale, any kind
1 tbsp olive oil
¼ salt
1 tsp taco seasoning
Method:
Thoroughly wash and dry the kale. Cut off the leaves from the spine, then chop into bite-sized pieces.
Toss the pieces of kale with olive oil, until all pieces are covered.
Lay kale in the air fryer basket, making sure that the leaves do not overlap too much.
Cook for 4 to 5 minutes at 375 F. They are done when crispy.
Transfer to a plate or bowl and sprinkle the taco seasoning over the kale. Toss the pieces to fully coat.
CBD Smoothies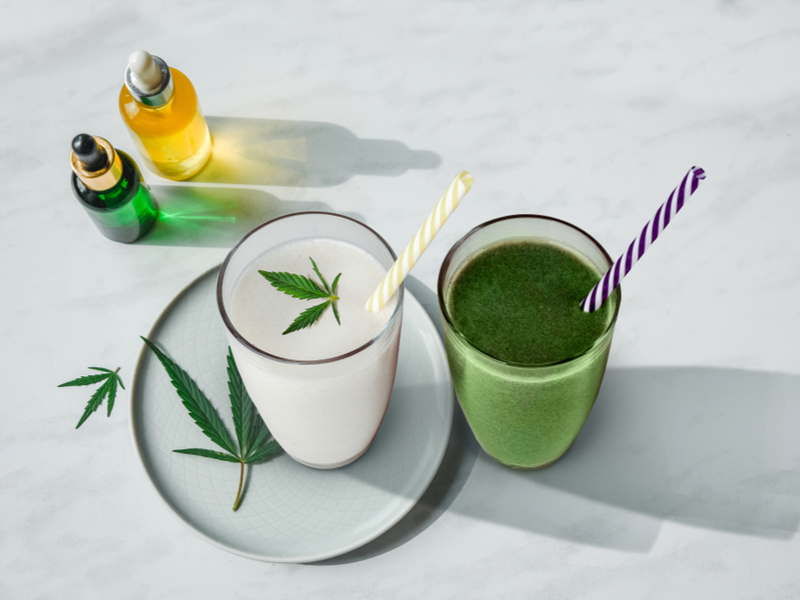 Cannabidiol, or CBD, is a hemp compound extracted from the cannabis plant. CBD's popularity has risen in recent years as more and more people have switched to this organic product for its potential health benefits.
Combining this hemp compound with a smoothie is a good way to satisfy one's sweet tooth and their daily CBD dosage. It's also another healthy snack recipe that's easy to make.
Fruity, Healthy, CBD Smoothie
Ingredients:
½ cup sliced strawberries
Half cup raspberries
½ cup blueberries
1 ripe banana 
1 cup Greek yogurt
2 tbsp rolled oats 
1 dropper full of CBD oil
Method:
Thoroughly wash the fruit.
In either a food processor or blender, mix together all of the fruits for about 3 to 5 minutes or until completed combined.
Add the CBD and pulse the mixture for one minute.
Serve immediately.
Apple Energy Balls with Peanut Butter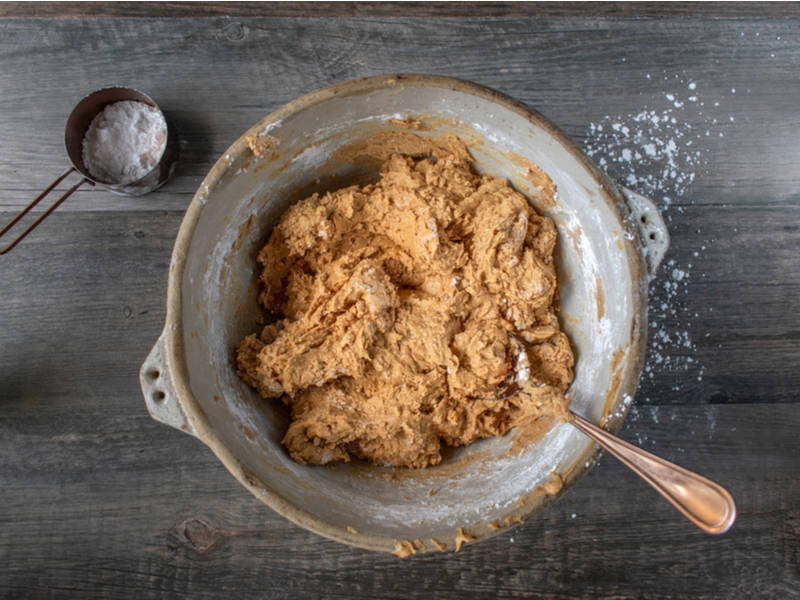 Energy balls are great sources of protein and are also incredibly convenient. Hikers and tourists alike have relied on this healthy snack recipe idea to give them the energy to keep going throughout the day.
Ingredients:
1 cup apple puree
½ cup of peanut butter
½ raisins
2 cups gluten-free rolled oats
Method:
In a food processor, mix together the apple puree, peanut butter, and raisins.
Add the rolled oats. Pulse until just combined.
Using a tablespoon, take spoonfuls of the mixture and roll them between your palms until they are in the shape of balls.
Refrigerate for 30 minutes then serve.
Pistachio Bars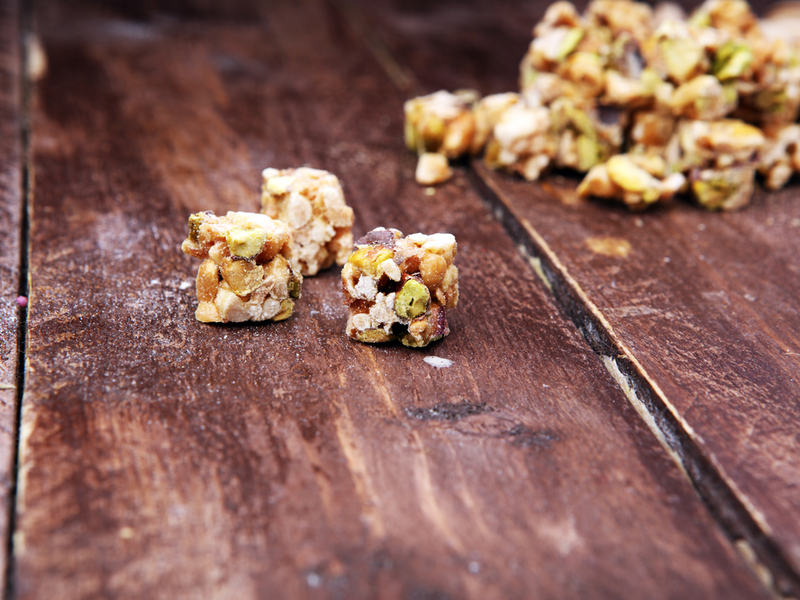 These bars are decadent but only contain healthy ingredients. Readers can enjoy these recipes when they're craving a good chocolate fix.
Ingredients:
¾ cup oat flour
¼ cup coconut flour
3 tbsp maple syrup
2 tbsp coconut oil at liquid and room temp
¼ tsp vanilla extract
For the chocolate:
¼ cup dark chocolate chips
3 tbsp almond milk
Method:
Cover a 4 by 7 inch baking dish with parchment paper and set aside. Make sure that there is excess parchment hanging over the sides.
In a large bowl, mix together the oat flour and the coconut flour. Stir in the maple syrup, coconut oil, and vanilla. Mix until combined. The dough that forms should be soft and malleable but should hold together pressed.
Press the dough into the lined baking sheet. Place a layer of parchment over the dough and press down firmly until the surface is completely even. Transfer to the fridge.
In a food processor, mix the pistachios, maple syrup, and salt for 30 seconds or until the texture is crumb-like. The mixture should also be slightly sticky and hold together when pressed.
Remove the parchment on top of the oat dough and spread the pistachio mixture on top. Press evenly and refrigerate for 30 minutes.
In a small saucepan, heat almond milk until hot. Pour the almond milk over a bowl of chocolate chips and let sit for a minute. Whisk the mixture until smooth and fully mixed.
Pour chocolate over the pistachio layer. Refrigerate for 1 hour.
Using the excess parchment over the sides of the baking dish, pull out the pistachio dessert. Cut into even squares.
Trail Mix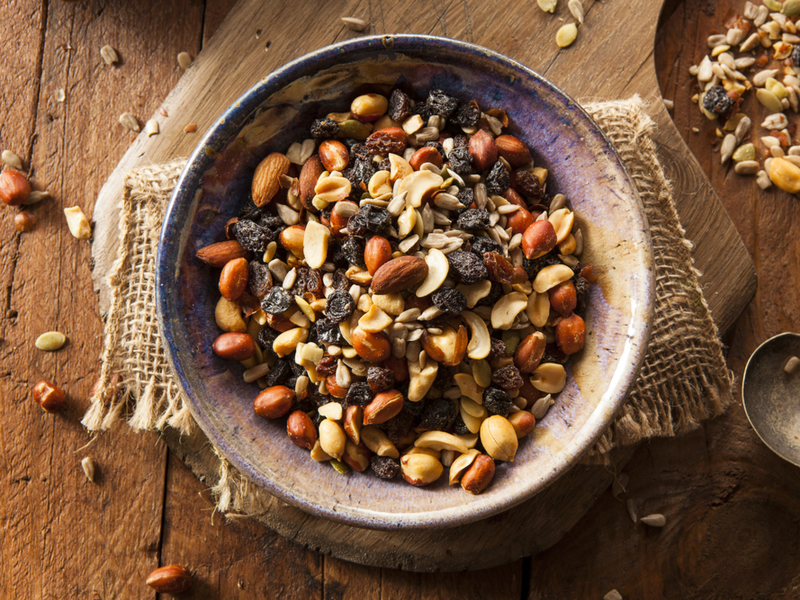 Trail mix is an old favorite and a classic for health nuts around the world. This snack is good for hiking through arduous trails or for just long days at work.
Easy to put together and flexible for everyone's tastebuds, it's plain to see why this healthy snack recipe has lasted through the years.
Ingredients:
Nuts (almonds, cashews, walnuts)
Seeds (sunflower, pumpkin, etc.)
Raisins
Chocolate pieces
Popcorn
Method:
In a reusable bag, add all of the ingredients. Give the bag a good shake to mix.
Greek Yogurt and Berries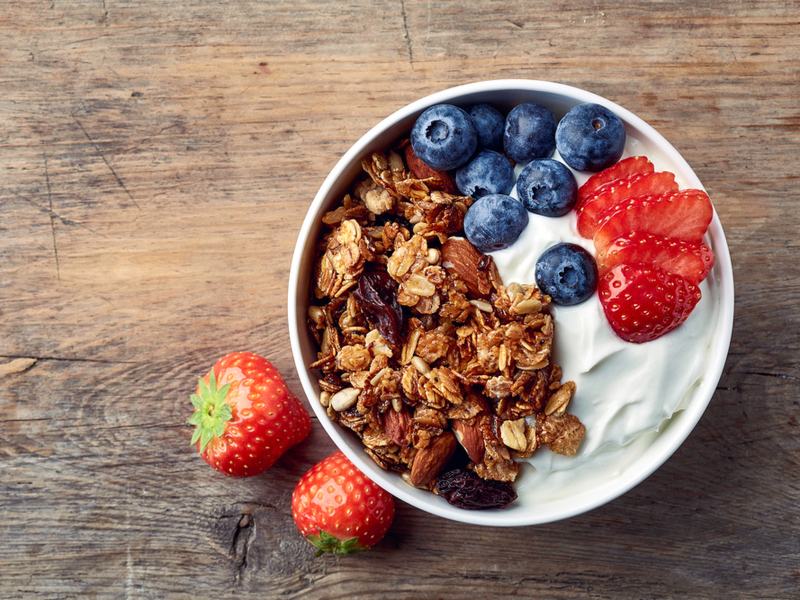 A bowl of greek yogurt and berries has been affectionately called the "adult" replacement for the childhood bowl of cereal.
This snack has become a staple for many different people's breakfast tables.
Ingredients:
1 cup Greek yogurt
1 cup chosen berries (strawberries, blueberries, raspberries)
Method:
Thoroughly wash fruits. For larger berries like strawberries or raspberries, chop into quarters.
Mix fruits with yogurt.
Final Thoughts
For many people, the task of eating well every day may begin to feel like a tall order after a while.
The concept of eating "healthy" and "well" is often clouded over with demands to switch completely to veganism or to get rid of every delicious "unhealthy" ingredient in your pantry.
Eating healthy doesn't have to mean eating boring. Readers should use the recipes above as jumping off-points in their journey to healthy eating.
Is CBD Legal? Hemp-derived CBD products (with less than 0.3 percent THC) are legal on the federal level. Moreover, these statements have not been evaluated by the Food and Drug Administration. This product is not intended to diagnose, treat, cure, or prevent any disease and products that have not been FDA approved. Likewise, you must be at least 21 years old to purchase these products. Talk to your physician or medical doctor for additional information.