What is CBD Full Spectrum?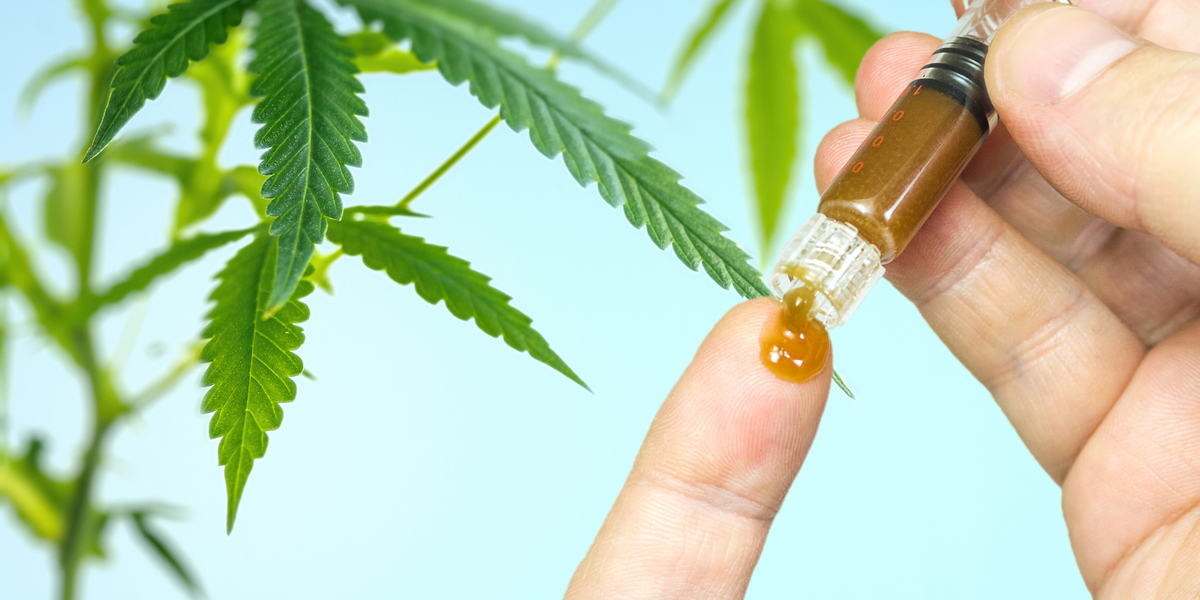 Learning about cannabis sativa isn't as easy because it can deliver different effects depending on its spectrum. One of its chemical compounds, cannabidiol (CBD), is rumored to have healing properties that can treat medical conditions like chronic pain, anxiety disorders, and cancer.
While medical marijuana is still considered illegal by the Food and Drug Administration (FDA) in the United States, researchers refuse to cease in their efforts to find better alternatives to prescription medications. They are looking at high-quality CBD products to solve this problem.
Cannabinoids affect the endocannabinoid system (ECS) by interacting with different receptors. CBD, in particular, could give unique health benefits to the human body. However, recent studies recently report that each cannabinoid can affect the body differently.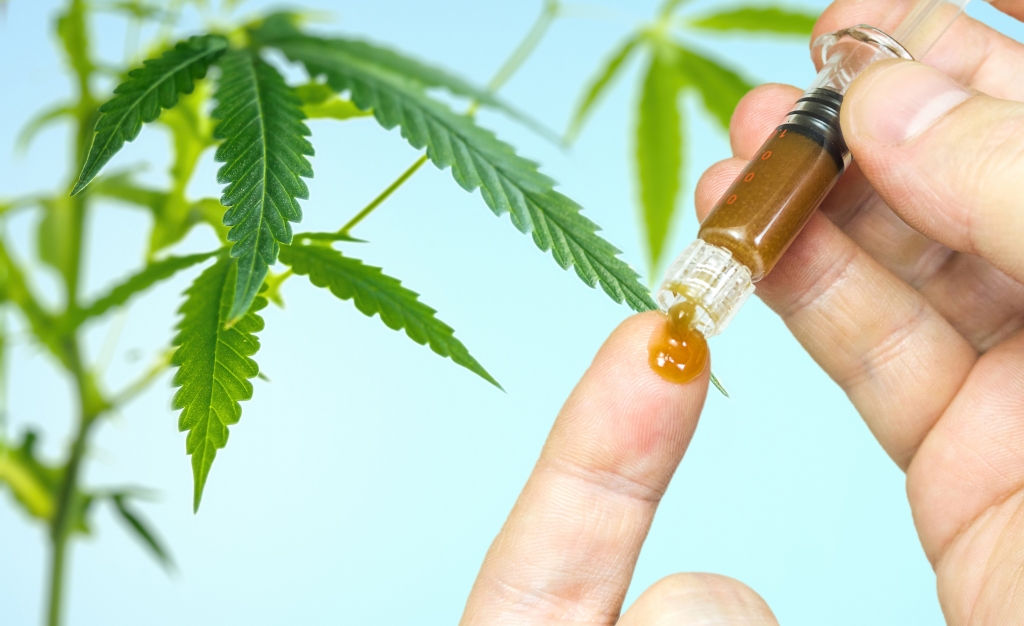 Other cannabinoids like cannabinol (CBN) and cannabigerol (CBG) can play a part in managing health ailments. When experts discovered the full collection of cannabinoids, they named it the cannabinoid spectrum. CBD products can either be full-spectrum, broad-spectrum or isolate.
Full Spectrum
Full-spectrum CBD products mean that it contains all the naturally-occurring cannabinoids in the cannabis plant. Other brands call it pure spectrum CBD.
Consumers who use full-spectrum products benefit from the entourage effect which increases the effectiveness of CBD because the different cannabinoids are working cohesively or synergistically.
You're getting over 100 different cannabinoids in the hemp plant. While the most active cannabinoids are CBD and THC, you also enjoy the side effects of CBN, CBG, and CBC, among others.
Cannabidiol (CBD): This cannabinoid is non-psychoactive. CBD is the most sought after because it has a wide range of daily uses.
Cannabigerol (CBG): This essential compound acts like the parent to other cannabinoids like CBD. CBG has potential benefits without the need of CBD.
Tetrahydrocannabivarin (THCV): Full-spectrum products don't contain a lot of THCV.
Cannabichromene (CBC): You can only find trace amounts of CBC in full-spectrum products. However, CBC is actually one of the six most abundant cannabinoids in hemp plants.
Compared to isolates or broad-spectrum products, high-quality full-spectrum CBD undergoes a less rigorous extracting process. Manufacturers use a method called the supercritical CO2 extraction to draw out the desired compounds. The result is a full-spectrum product containing all the cannabinoids that hemp has to offer.
Full-spectrum products contain less than 0.3% THC if they come from a reputable brand. The product does not contain enough of the psychoactive compound of THC to induce a high.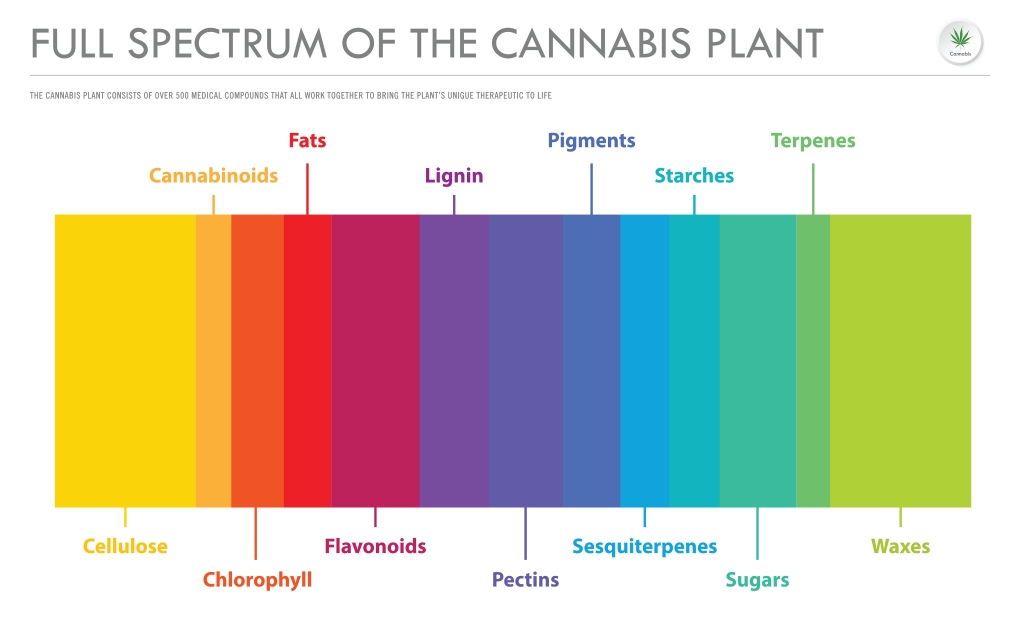 Broad Spectrum
Broad-spectrum CBD is a hybrid mix of full-spectrum CBD and CBD isolates. Similar to full-spectrum products, broad-spectrum contains all the other compounds within the plant. However, like CBD isolates, there is no THC content in broad-spectrum CBDs.
Because it contains multiple cannabinoids, broad-spectrum can deliver the entourage effect without the risk of psychoactive side effects that THC brings.
For different forms of broad-spectrum, manufacturers filter and process the oil more extensively using various methods until it contains only the desired cannabinoids.
Benefits of Full Spectrum
Those who decide to use full-spectrum products can enjoy many health benefits. Early studies suggest that full-spectrum CBD can reduce inflammation, relieve muscle soreness and speed up recovery times.
There are other health benefits users can feel due to the other cannabinoids.
Cannabidivarin (CBDV) contains anticonvulsant, anti-inflammatory and anti-nausea properties, as well as its positive effect on pain and mood swings. It's particularly effective in providing relief for Crohn's and HIV/AIDS symptoms.
Cannabichromene (CBC) is an anti-inflammatory, anti-depressant, anti-fungal, and anti-cancer agent.
Cannabigerol (CBG) has countless health advantages. Apart from its anti-inflammatory, anti-fungal, and anti-tumor properties, CBG has exhibited potential for treating cancer, glaucoma, inflammation and skin diseases.
Cannabinol (CBN) is perfect for those with insomnia, as CBN induces a sedative effect.
Full-spectrum is rich in vitamins, essential fats, and protein. It's abundant in vitamins A, B, C and E as well as 20 amino acids, Omega 3 and Omega 6 fatty acids. Overall, these components promote a healthier heart.
The only downside of full-spectrum products is that it may show up on drug tests or cause legal complications because of its THC content. For those with sensitive palettes, full-spectrum products may have a strong natural flavor that's undesirable.
If you want to avoid these problems, you may want to opt for broad-spectrum CBD.
Benefits of Broad Spectrum
Absent of THC, broad-spectrum is perfect for someone who wants to avoid it at all costs. Broad-spectrum products are rich in cannabinoids, terpenes, and flavonoids. Despite not having any THC, consumers can still maximize the entourage effect it provides.
It's practical for those who regularly take drug tests or for someone who is wary of any mind-altering compound. For those living in states with strict THC-laws, this is the product for you.
Broad-spectrum CBD retains the maximum chemical profile except for THC. It's best for people whose conditions cannot be treated with CBD isolates.
However, there is less research and availability for broad-spectrum products. This is the only downside.
Is Full Spectrum CBD Oil Better Than CBD Isolate?
If we were to compare full spectrum to broad-spectrum and CBD isolate, full-spectrum pulls ahead of both because of its nutritional value and overall entourage effect.
In 2015, researchers conducted a study at the Hebrew University of Jerusalem's Hadassah School and found that the highest quality of full-spectrum CBD treated inflammation much better than CBD isolate. This was under the basis that other components in the full spectrum extract synergized with CBD.
Verdict
Research hasn't brought definitive results on how a certain cannabinoid can impact the body, let alone the entourage effect.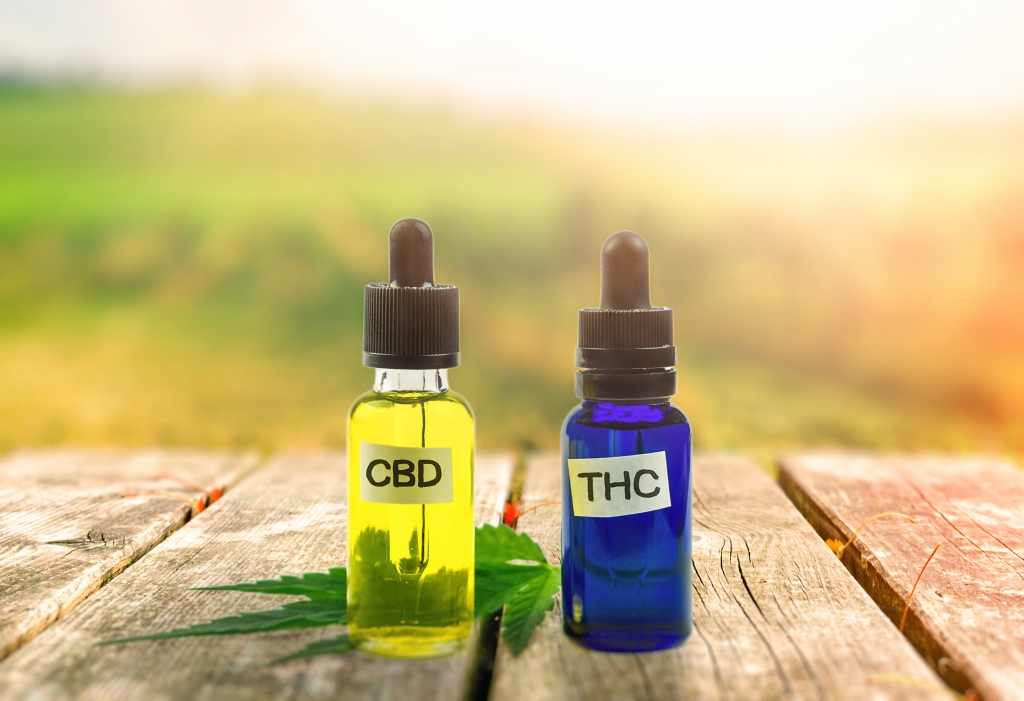 For some people, they benefit from broad-spectrum because it gives them the full benefits of the cannabis plant without the high caused by THC. Others, on the other hand, benefit most from pure CBD isolates. On rare occasions, there may be individuals whose ailments need THC.
While there are many anecdotal reports of healing benefits from CBD usage, each body reacts differently once we take account of one's weight, history with substances and chemical makeup.
CBD continues to show potential as a vital component in the future for medicine. Despite the dozens of health benefits, research on each spectrum of CBD is still in its early stages at the individual level.
Before experimenting with any hemp or marijuana-induced product, consult a medical professional to see if it's a viable option for you.
Hemp-derived CBD products (with less than 0.3 percent THC) are legal on the federal level, but are still illegal under some state laws. Marijuana-derived CBD products are illegal on the federal level, but are legal under some state laws. Check your state's laws and those of anywhere you travel. Keep in mind that nonprescription CBD products are not FDA-approved, and may be inaccurately labeled.