5 CBD Recipes for Beginners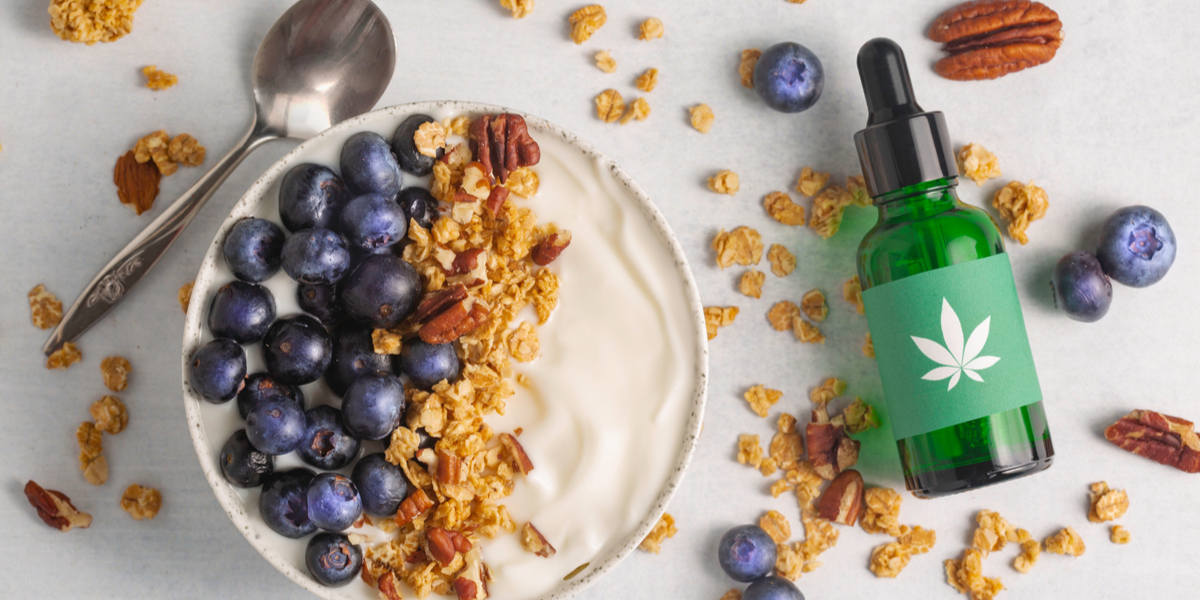 As cannabidiol becomes more popular, the variety of people in the hemp community becomes more diverse. People who love to cook and or simply want a more creative way to consume their daily dose of hemp have turned to CBD recipes.
This article is for users who are just stepping into the world of culinary CBD and want to have a few basic CBD recipes under the belt.
Cooking with CBD Oil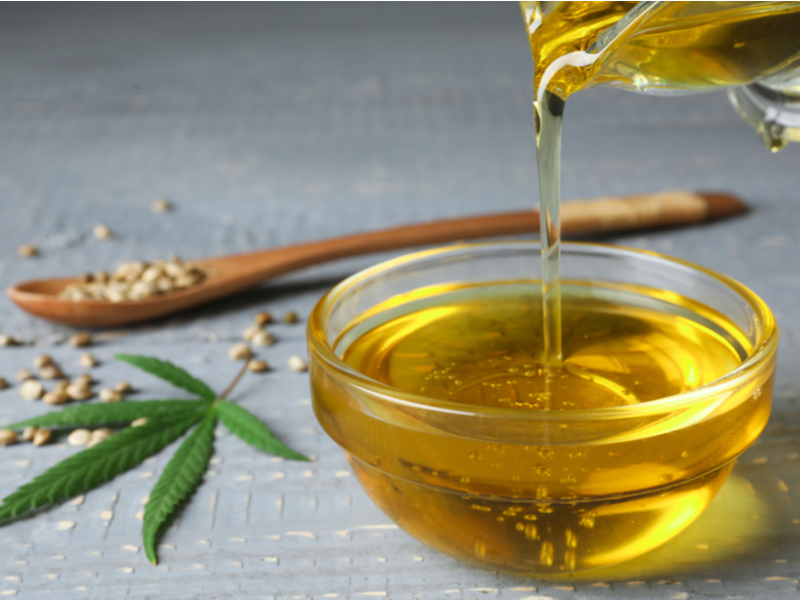 Incorporating the best CBD products into one's diet doesn't have to be a complex endeavor. Users don't have to completely revamp their diet in order to include hemp in their eating habits. Creating homemade edibles can be as simple as adding this hemp compound into your favorite CBD recipes.
However, there are some key factors that users should take note of before creating CBD infused food.
First, is the kind of CBD hemp oil they use. Consumers should always use only high-quality products. However, for this method of consumption, the quality of the hemp oil is crucial. Since many different flavors and ingredients are being cooked together, low-quality CBD may become lost in the combination and become less effective.
The most important thing to keep in mind while cooking with CBD oil is to avoid directly heating the oil. Hemp oil is not like cooking oil. It cannot be used to fry or sautee food whilst directly exposed to heat.
Cannabinoids cannot survive extremely heated conditions and the hemp oil will lose many health benefits if users put them on direct heat.
How to Cook with CBD Products
A cursory search online will show that there are already common household ingredients that have been infused with CBD and are ready-to-use. Still, the convenience of these products may not completely overshadow concerns about quality.
Choosing which CBD products to cook with largely depends on the recipe a user has decided to cook with. Many people have opted to use CBD isolate products as they are usually created without flavor so this kind of hemp product can be added to any recipe.
On the other hand, choosing a hemp oil with flavor can be beneficial for recipes that need that kick of flavor. For example, cinnamon-flavored hemp oil may be the perfect match for CBD-infused cupcakes. 
All of cooking depends on preferences and needs. Users who are including cannabidiol in their recipes just need to make sure that they are being safe and responsible in their choices.
Cannabutter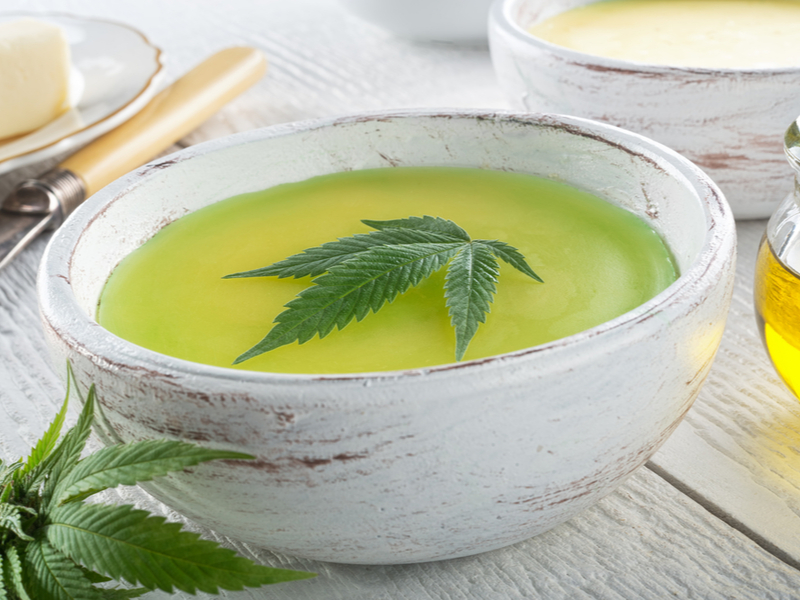 Cannabutter is the perfect CBD recipe for beginners to start with because it is both easy to make and versatile. It works almost exactly like regular butter.
This means that users can use this recipe for a host of different, other recipes. Homemade cannabutter can even be simply spread on toast for a simple, but effective hemp dose in the mornings.
YOU WILL NEED:
A dropper full of CBD oil
1 cup of water
1 ½ sticks of butter (salted or unsalted)
Cheesecloth
Jar for storage
METHOD:
Heat the water and butter together in a saucepan, stirring occasionally. Keep the mixture at a simmer as to not burn the butter.
Once the butter has melted and combined completely with the water, add in the CBD oil. Stir to combine.
Keep the saucepan at a simmer for 60 minutes at a simmer. This step helps all of the ingredients bind together but too much heat will lessen the benefits of CBD. Keep the heat at a low. Stir occasionally.
Spread your cheesecloth into a bowl. The cloth has to be big enough to have over-hanging sides.
Carefully pour your butter mixture onto the cheesecloth. Grasp the overhanging sides of the cloth and squeeze the cloth to drain the butter mixture.
Place the butter inside the cheesecloth in the fridge and cool until solidified. Depending on the fridge, this may take one to two hours.
Once solid, transfer to a jar and keep refrigerated.
CBD Cookies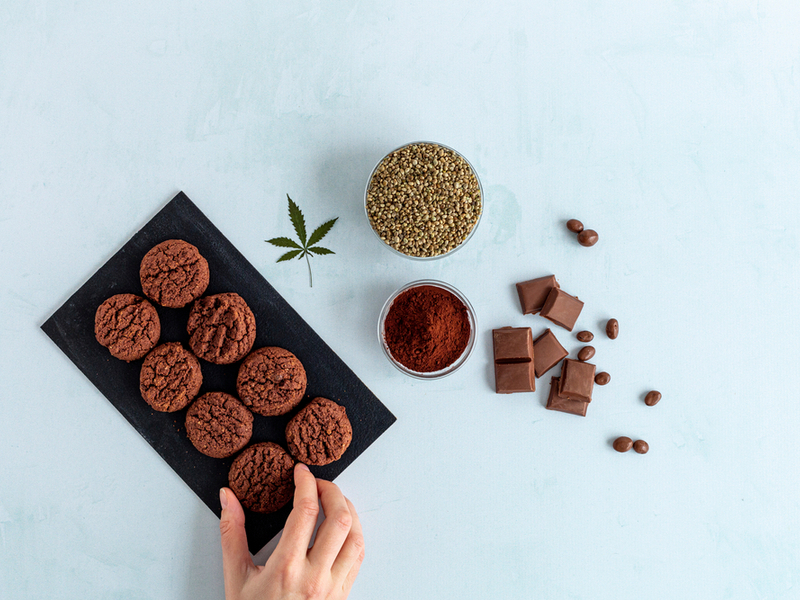 Knowing how to make the classic CBD recipe for infused chocolate-chip cookies is a good card to have under your sleeve. These hemp-infused cookies are good for parties and for keeping as a treat in the pantry.
YOU WILL NEED:
1 ⅔ cups of bread flour
1 ¼ tsp baking soda
2 cups of cake flour
1 ½ tsp baking powder
1 ½ tsp salt
3 tsp cornstarch
200 mg of CBD oil
1 ¼ cup of unsalted butter
¼ cup of dark brown sugar
1 cup granulated sugar
2 eggs
2 tsp vanilla extract
1 cup of dark chocolate pieces
METHOD
Sift together the dry ingredients into a bowl: flour, baking soda, baking powder, cornstarch, and salt.
In a different bowl or in a stand mixture, mix cream together butter, CBD, and both sugars until the mixture is light and fluffy.
Add eggs into the butter mixture one at a time. Mix after each addition.
Next, add vanilla extract.
Carefully add the dry ingredients. Switch to a lower setting and mix together until everything is well combined at least five minutes.
Fold in the chocolate pieces. You may want to switch to manually stirring the mixture so as not to break the chocolate.
Preheat oven to 350F degrees. Line a baking sheet with baking paper or a silicone baking mat.
Using an ice cream scoop or a large spoon, create mounds of dough into about golf-sized pieces. Transfer the balls into the baking tray, about two inches apart. Sprinkle with salt before putting in the oven.
Cook for 18 to 20 minutes or until golden brown.
CBD Latte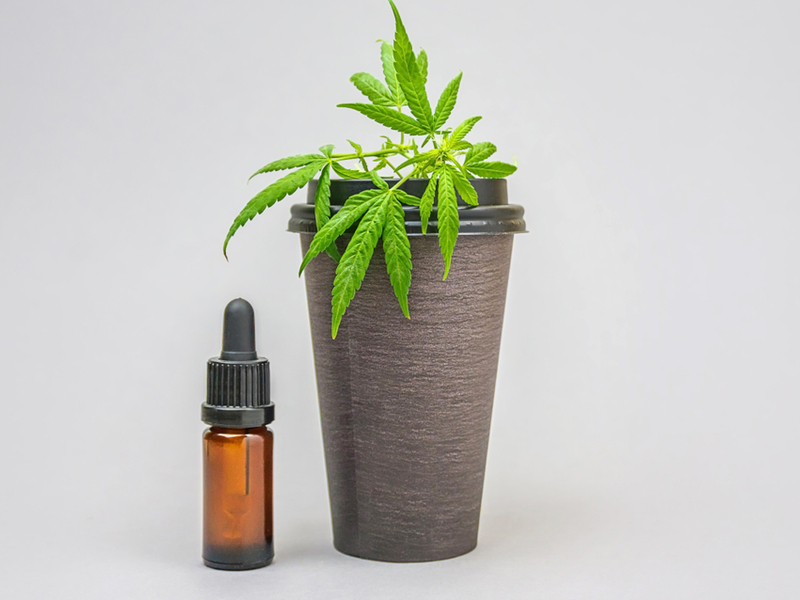 Marrying one's morning coffee with their daily dose of CBD is an effective way to keep a regular but easy consumption schedule. This CBD recipe is easy but quick–perfect to make before dashing off to kick-start your day.
YOU WILL NEED:
1 to 2 scoops of your preferred coffee grounds
1 cup milk
2 tsp CBD oil
½ tsp vanilla extract
Pinch of salt
Sweetener of choice
METHOD:
Make coffee. Make about half a cup.
Next, in a saucepan, combine together milk, CBD oil, vanilla extract, and salt. Keep the mixture at a simmer and stir occasionally.
When the mixture has become warm, take it off the heat.
Pour the CBD mixture into your cup of coffee. Stir to fully combine.
CBD Guacamole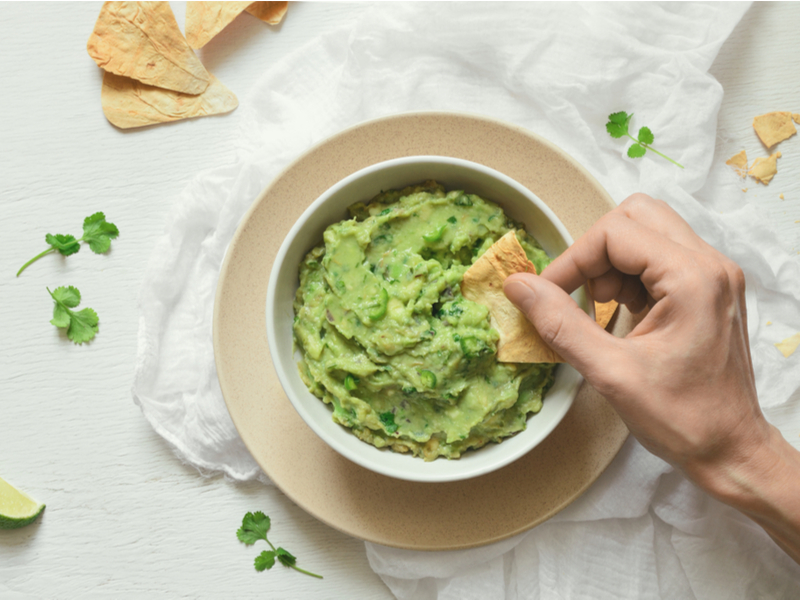 This CBD recipe is essential for any users who have multiple friends that are also taking cannabidiol. CBD-infused guacamole is easy to whip up for parties and is always a crowd-pleaser with this favorite recipe.
YOU WILL NEED:
3 ripe avocados
1 ½ tbsp fresh lime juice
1 large tomato, seeded and diced
¼ cup of chopped cilantro
1 garlic clove
½ tsp salt
1-2 tsp minced jalapeno or Serrano pepper
1 full dropper of CBD oil
METHOD:
Cut avocados in halves and remove seeds. Spoon the flesh out and into a bowl.
Next, drizzle lime juice on top of the avocados.
Mash the avocados with a fork until creamy but with some chunks still present.
After, dice the garlic and add it to the mixture. Sprinkle in salt. Mix.
Fold in CBD, making sure to incorporate completely and evenly.
Add tomato, cilantro, and diced peppers. Mix.
Taste and adjust as needed.
CBD Salad Dressing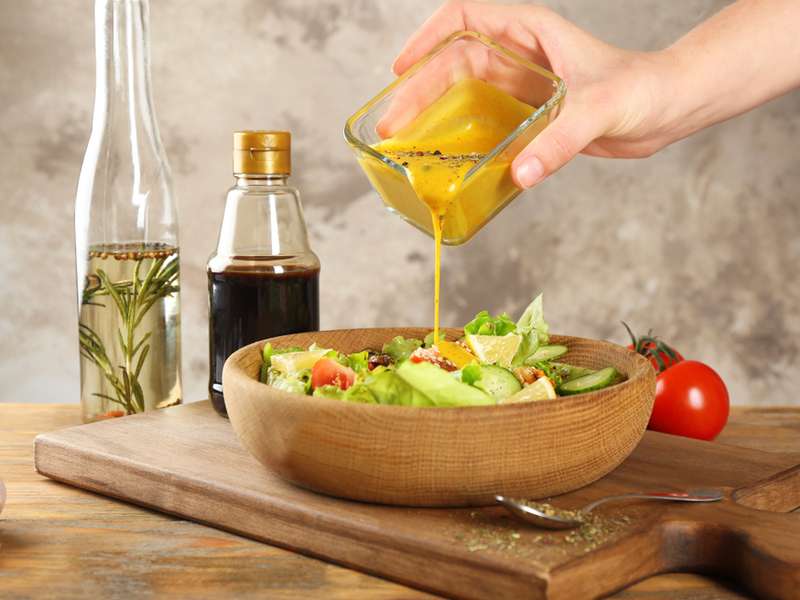 Users who are trying to lose weight may take advantage of cannabidiol's possible health benefits to keep their bodies strong. Users can spice up their regular salad dressing with cannabidiol for added possible health benefits with this healthy recipe.
YOU WILL NEED:
1 ½ tsp lemon juice
1 ½ balsamic vinegar
4 tsp CBD oil
1 tsp Dijon mustard
Salt and pepper to taste
METHOD:
Mix together all the ingredients.
Taste and adjust salt and pepper if needed.
Drizzle over salad, tossing the salad to fully incorporate.
Is CBD Legal? Hemp-derived CBD products (with less than 0.3 percent THC) are legal on the federal level. Moreover, these statements have not been evaluated by the Food and Drug Administration. This product is not intended to diagnose, treat, cure, or prevent any disease and products that have not been FDA approved. Likewise, you must be at least 21 years old to purchase these products. Talk to your physician or medical doctor for additional information.